16. Narthex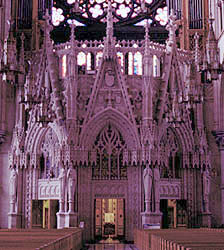 Narthex viewed from the Nave

You pass into the narthex, or vestibule, through the splendidly carved Indiana limestone screen, between figures of martyred popes - and also Pope St. Gregory the Great, who developed the great body of liturgical music which we know as "Gregorian Chant." The screen's symbols represent archdiocesan agencies: the local Church in action. Symbols of the apostles show the Church universal. Side-aisle portals dedicated to the Child Jesus and to the Assumption of Our Lady feature shields honoring the working men and women of the archdiocese. They are the People of God. Their financial sacrifices made this cathedral project a reality.

Entering the narthex from outside, one first encounters inscribed invocations from the litany of the Sacred Heart, mingled with symbols of Jesus Christ and his Mother, who, as Our Lady of Victory, stands over the main entrance. On the east wall, plaques commemorate two historic visits to the cathedral: 1) Pope John Paul II presiding at Evening Prayer on October 4, 1995, in the presence of President Bill Clinton; and 2) the cardinals and bishops of the United States concelebrating Mass on June 18, 1989.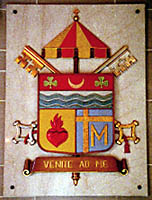 Coat of Arms

The shield mounted on the west wall is the coat of arms of the Cathedral Basilica. The upper section taken from the Archdiocesan coat of arms represents the Archdiocese of Newark. The lower section (Sacred Heart) denotes the Cathedral (viewer's left) and Pope John Paul II's coat of arms (viewer's right). Behind are symbols of a basilica, linking it to the Pope: keys ("To you I will give the keys of the kingdom") and a traditional processional canopy. "Venite ad me" means "Come to me" (Matthew 11:28).

The Cathedral Shop is in the narthex. So is the elevator to the gallery and restrooms. In the gallery is the console of the main organ, with pipes visible in carved wooden cases alongside the rose window. A console located in the sanctuary can also play the entire organ.