15. Center Aisle of the Nave
Center Aisle

Exit the baptistry and return to the center aisle of the nave, to feel its expansive length (148') and height (100'). Mighty pillars support huge vaults, but delicate carving gives them a light upward thrust that does not appear massive. This gathering place for the liturgical assembly retells Jesus' life in familiar Gospel scenes shown in windows along the two side aisles, where he appears as the miraculous healer and calmer of the sea. The transepts' clerestory windows show his merciful compassion welcoming children, the centurion, and the sinful woman and the parable of the prodigal son. We see him teaching in the Sermon on the Mount. These scriptural passages find devotional expression in the Sacred Heart of Jesus, over the altar, the titular of this cathedral.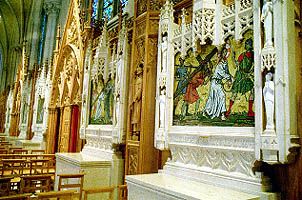 Side aisle, showing Stations of the Cross

Along the walls at floor level, the Stations of the Cross, fourteen scenes from Jesus' Passion and Death, occupy marble shrines, in a sequence starting on the east wall (right side as you face the altar), front to back, and west wall back to front. Between the stations are the confessionals, where penitents experience Christ's redemptive love in the Sacrament of Reconciliation. Confessing their sins, they receive God's forgiveness mediated through the Church, expressed by a priest. Incorporated into the woodwork are hand-carved oaken figures of saints who preached about Christ and his mercy. Symbols above represent the apostles.

In the nave clerestory windows at the very top of the walls stand saints, men and women who lived the life and love of Jesus Christ. Surrounding the praying People of God, they remind us that we live and worship amid "a cloud of witnesses" (Heb.12:1).

Return to the center aisle to realize the full impact of the gallery rose window. All will be gathered into Christ on the Last Day, represented here as "The Last Judgment." At the center is Christ as judge, suggested by Chapter 25 of Matthew's Gospel. This, the largest of the windows (36' diameter, the second largest in the hemisphere), holds images of the Archangels, of the Horsemen of the Book of Revelations, and of the Apostles, all surrounded by angels. It draws together all time and space into the mystic pattern of the rose. Allow your spirit to enter that window and feel its power.

The saints beneath the rose window spread the love of Christ through preaching about his Sacred Heart, his Passion, and the Eucharistic gift of his body and blood. They are (left to right) Sts. Margaret Mary Alacoque, Claude de la Colombière, Alfonsus Liguori, Catherine of Siena, Bonaventure, Peter Canisius, Bernard, and Isaac Jogues (missionary martyr of upstate New York).