13. West Transept
West Transept

Approach the doorway of the west transept, dedicated to the apostolic leader, St. Peter, whose statue stands between the doors. His key recalls the words of Jesus, "To you I will give the keys of the kingdom." The figure links with the exterior, where the tympanum shows Peter in three Gospel scenes. We see Bishops Bayley (left) and Corrigan (right).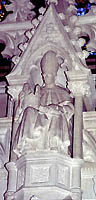 Archbishop Walsh holding model of Cathedral

The interior carries out the theme of Church leadership, portraying New Jersey bishops and archbishops and, flanking the doors, Popes Pius XII (right) and Pius IX (left). Above the Popes are, respectively, Archbishops Thomas Walsh, who completed the cathedral, and Thomas Boland, who dedicated it in 1954. Archbishop Walsh holds architectural plans and a model of the cathedral.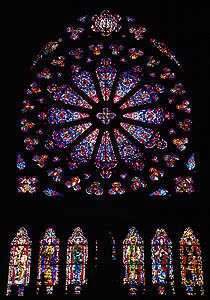 West Rose Window

The west rose window, entitled "The Coming of Our Lord," speaks in reds which are most spectacular in late afternoon sunlight. Again, a symbol of Christ, the Chi Rho (first two letters of Christ in Greek), is central, and the pinnacle holds another: the pelican, said in legend to feed its young with its own blood. Patriarch and prophets speak of him (counterclockwise from top left): Moses, Elijah, Isaiah, and John the Baptist. Angels circle in and between the tips of the rose petals. The saints beneath are (left to right) John Chrysostom, Agatha, Lawrence, Anastasia, Nicholas, Monica, and John Bosco.