2. Sanctuary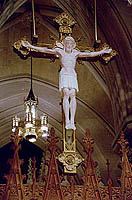 Crucifix

Now move to the center and look into the sanctuary. The altar, where the Eucharist (Mass) is celebrated, is the most important object in a Catholic church. As a table, it recalls Jesus' Last Supper. The central emblem, IHS, is made up of the first three letters of the name Jesus in Greek. Letters of the Greek alphabet, on either side, recall the words of the Book of Revelations, "I am the Alpha and the Omega, the Beginning and the End" (Rev. 21:6). Linking the Eucharistic banner to Jesus' Crucifixion is the crucifix above (bronze, with a figure of Portuguese light rose marble and a garment of Carrara marble).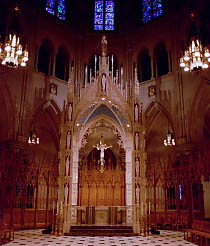 Baldachino

The towering Botticino marble canopy, or baldachino, is topped by the figure of Jesus under the title of the Sacred Heart. This title emphasizes the loving compassion of God, shown in the humanity of Jesus. Directly below this statue is Mary, mother of Jesus, shown as "the Immaculate Conception," that is, sinless from her first moment of existence. Under this title, she is the patroness of the Archdiocese. The statues set into the side pillars are of the twelve apostles, the four evangelists (Gospel writers), and doctors of the Church, with the archangels Michael and Gabriel.

On the left side of the sanctuary you will see the archbishop's chair (in Latin, cathedra), from which a cathedral gets its name. Here the leader of the Archdiocese presides at important celebrations of the local church, e.g., major feasts, the Rite of Election for catechumens, and ordinations of bishops, priests, and deacons. Above hangs the current archbishop's coat of arms.

Circling the sanctuary, screens carved from Appalachian oak include symbols (left and right) of virtues and (center) of Christ and the Church. In niches at the ends of the choir stalls (seats) are statues: on the left, the Roman Emperor Constantine, who legalized the practice of Christianity (venerated as a saint by the Eastern Church); and on the right, his mother St. Helen, who discovered the Cross of Jesus in Jerusalem. The delicate carving in the screen and its high spires replicate typical features of high Gothic architecture.

Windows high above (in the clerestory) depict, from left to right, Queen Esther and other images from the Hebrew Scriptures; the Joyful, Sorrowful, and Glorious (5 windows) mysteries of the Rosary; and King David with other Hebrew Scriptural images.
Tintinnabulum
Crossing to your left, you will pass a red and gold umbrella and bellpole (tintinnabulum). These emblems signify the cathedral's rank as a minor basilica, that is, a church of special prominence honored by the Pope. Pope John Paul II so designated the Cathedral of the Sacred Heart when he visited here on October 4, 1995. The umbrella and bellpole are medieval vestiges once used in procession when the Pope visited a basilica.